We develop and manufacture high precision
valves that are geared to meet the stringent
cleaning requirements of the semiconductor
manufacturing nodes.
In addition, Advance supports the bio,
medical and analytical industries
with its market-proven, world-class
performing solenoid valves…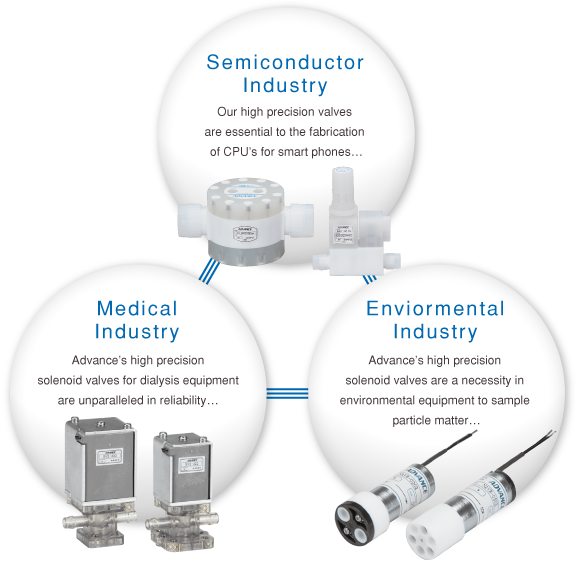 "Wanting to be ahead of the rest" is the slogan of our company name.
We believe that originality is key in maintaining this spot at the top.
Advance's valve technology has been expanding throughout the entire globe since 1981 and continues to be a vital part for the development of emerging technologies.
Our valve technology has left ever-lasting footprints across multiple industries that no one has ever set foot upon before.
I believe the vision of being at the forefront of technology leads to the engineer to drive for prosperity. I always give the "railway car" example to our employees:
The lead car is not the driving force of the train. Rather, it is each individual car working together that powers the train down the track like a bullet train does.
Even before the onset of social revolution and technological innovation all workers used to think for themselves and joined forces. I believe that is the key to carving a path to the future.
Through imagination and lively exchange of ideas we will continue to respond with technology and products for our customers and society.
Noboru Hida Chairman & CEO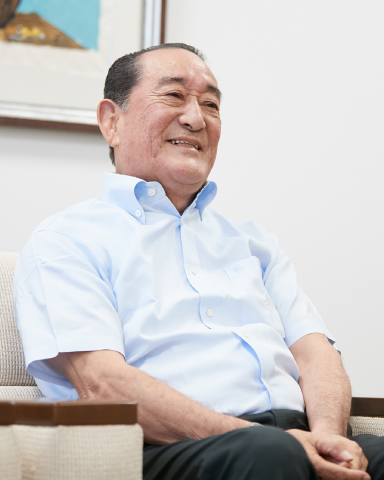 Noboru Hida Chairman & CEO

Advance's high-precision valves are not only required for medical instruments and environmental analytical equipment, but are vitally needed for semiconductor manufacturing of smart phones and artificial intelligence which have achieved remarkable progress. For the escalating needs of the global market these products require an even higher degree of cleanliness.
Advance's products for the semiconductor industry are manufactured at its headquarters in Kasugai Shi. Products for the bio, medical and analytical industries are manufactured at its plant in Okinawa.
Advance also has manufacturing plants in South Korea, Taiwan, and a sales office in the USA. With these overseas locations and with its world-wide sales partners, Advance is able to expand the sale of its products throughout the globe.
We like to propose solutions to our customers. Since the establishment of Advance, we try to apply the experience built by our predecessors. For the high-precision valve market we will continue to contribute to our customers' challenges.

Tsuyoshi Hida President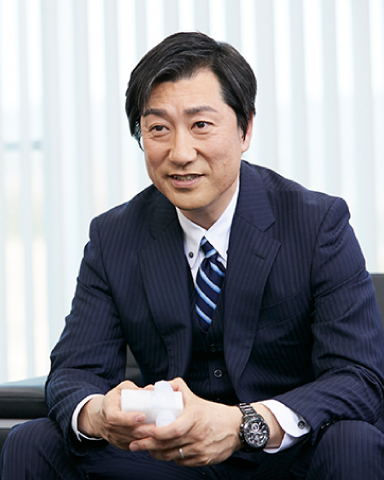 Tsuyoshi Hida President

Employees are assets, people are treasures
We believe that quality goods and bright ideas are the product of working in an comfortable environment. For example, the break rooms and the Japanese style rooms at the Kasugai R&D center can be used after 5pm for meetings. These rooms provide a relaxed atmosphere and can bring out new ideas from people during meetings.
New technologies are born through flexible thinking
For example, Advance's solenoid valves and flow sensors are used in artificial dialysis and blood analysis equipment for protecting human life at hospitals and dialysis centers.
There are various types of chemicals and large volumes of fluid is fed through this equipment so the valves have to be high purity and highly corrosion-resistant.
Advance possesses much know-how on fluid control. In addition, we have abundance of experience and track record with low-flow liquid control and inline mixing and continue to support the challenges of our customers.

Also, as the design nodes of the semiconductor manufacturing process continue to shrink our pneumatically-operated valves continue to evolve.
The stage is the world. We aim for the global standard.
Advance valve technology is utilized throughout the world. We have a large portfolio of patents and international patents for product technology used overseas.

To provide support to customers around the world we have locations in the US, South Korea and Taiwan. have manufacturing locations in

Our manufacturing plant in Okinawa is used as an international logistics base as well.
While we procure a portion of valve parts overseas we also aim to contribute to the local industries.

Advance Electric Group
Management Philosophy
Quality Policy

Constantly reach out to customer needs
Self-challenge yourself to bring your core engineering level higher

Always work at full speed and develop the best product and deliver it at its highest state
[specific activities]
①Build a clean room that supports the leading edge semiconductor process
②Achieve precision machining under a temperature-controlled manufacturing environment
③Maintain absolute quality in order to avoid shutdown of semiconductor manufacturing lines
④Desire leading edge technology for manufacturing processes
⑤Acquire and communicate global information
⑥Put the person in sales who can design and develop quickly
⑦Use second-to-none analysis equipment from universities
⑧Have the ability to create leading-edge in-house facilities
⑨Develop top-class custom valves
Environmental Policy

Look for every opportunity to harmonize the environment with business activity and aim for management that gels together.
[specific activities]
①Provide tranquility to people via a green-rich headquarters
②Maintain small Japanese gardens and pavilions by the factory
③Bring about a clean image to the factory
④Maintain a water reservoir for vivid colored carp to swim in
⑤Providing products for environmental analysis equipment
⑥Use of solar power and water recycle
⑦Waste management in compliance with laws and regulations
⑧Awareness of regulated chemicals with honest and responsible behavior
⑨Scientific and rational management with communication of chemical substances contained in products
Occupation and Health Policy

While battling global tensions, using flexible ideas to create new and safe technologies in a relaxed working environment that get the most out of the employees
[specific activities]
①Create an environment to enable creativity in meetings
②Create a fitness environment for employees
③Create a cafeteria for breaks and interaction
④Create a good working environment for men and woman to thrive
⑤Maintain and strengthen the working climate
⑥Hold parties to interact with family members
⑦Learning beyond work with the opportunity to grow
Information Security Policy

Work to achieve further progress to protect confidential and personal info of our advanced business partners by maintaining leading-edge research and development
[specific activities]
①Conform to safety trade control
②Protect all customer confidential information via a customer confidential safeguard system
③Control access to laboratories and manufacturing buildings
④Network isolation and surveillance implementation
⑤Evaluate the risk of net intrusion
Business Continuity Plan Policy

We fulfil our supplier responsibilities to customers by having a BCP in place in the case of serious natural disasters that would effect the semiconductor and medical equipment industries.
[specific activities]
①Securing a power generator and food
②Supply well water to employees and area residents in the case of a natural disaster occurs
③Have a vibration-free floor installed to protect machining equipment and parts
④Manufacturing system is dispersed in multiple locations
⑤Have established a global repair and maintenance system
⑥An infrastructure virtualization/back up has been implemented
By our slogan, and after stakeholders requirements including regulations were deeply recognized, as well as a continuous improvement thoroughly being implemented by PDCA, have we have made a contribution to society.
Established on May 20, 2016
Revised on February 20, 2023
Advance Electric Co., Inc.
Tsuyoshi Hida President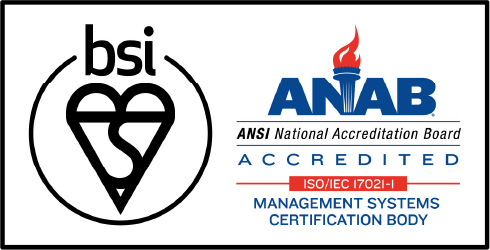 FM668377/ISO9001
Headquarters and R&D Center No. 2 Factory - ISO9001 Certified